May 28 2016
Seth is featured in the play "This Time" written by Sevan K. Greene and directed by Kareem Fahmy. The reviews are in and the play is a New York Times critics pick!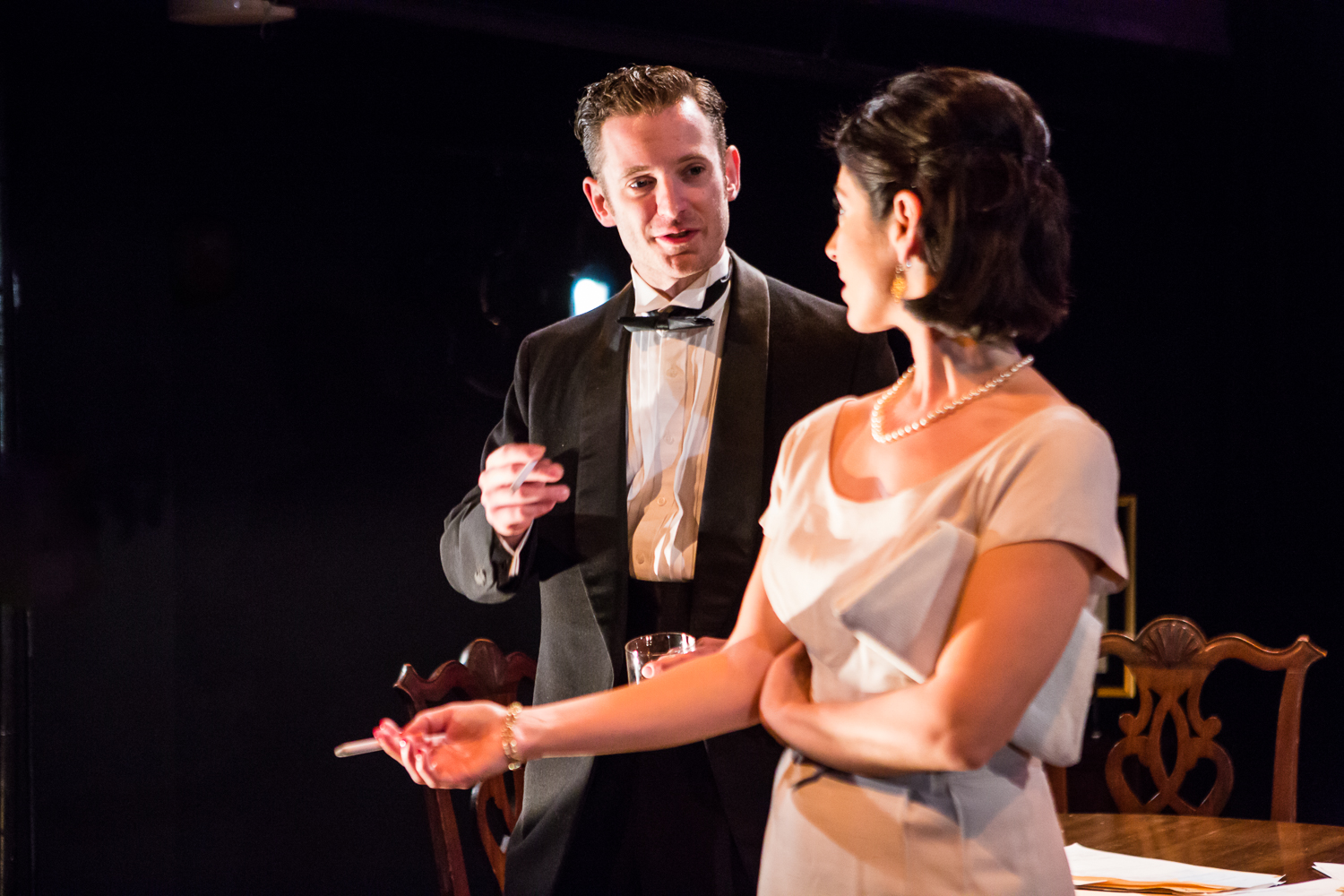 April 23 2016
For a second year in a row Seth was invited to submit a short play to the F*it Club Annual Spring Fling a collection of six world-premiere, commissioned short plays from notable playwrights on a common theme. This year's theme is "Crush"
May 28 2016
Seawife has been nominated for the 2016 drama desk awards in two catagories: Best music and best lighting design!
February 15 2016
Appeared in a great new play by Kevin Armento and directed by Jaki Bradley at the Arena Stage in Washington. It'a a compelling story of five women who fought in the civil war disguised as men.
October 20 2015
Had a blast working on Kristin Slaney's No One Here Respects You as part of Ensemble Studio Theater's Asking For Trouble Series this past weekend. Good talent and Good vibes all around!
July 6 2015
Theater is Easy's insightful comments.
July 1 2015
Seawife is a top ten pick at Broadwaybox.com!
June 30 2015
Here's a nice review of Seawife from Entertainment Weekly
June 26 2015
Seawife opened officially last night and we are already starting to attract attention! Check out the links below.: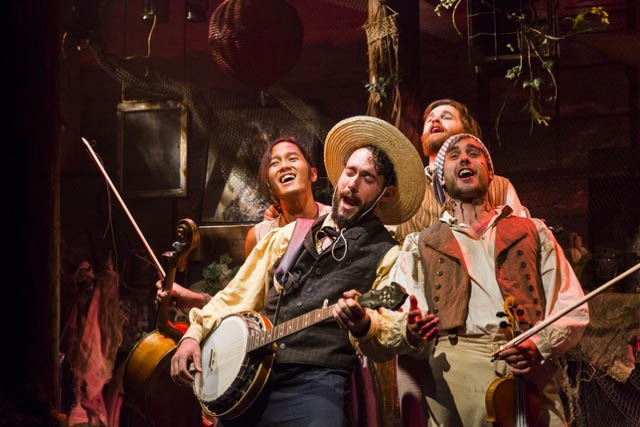 Playbill: Photo Call-A Look at Naked Angels' SeaWife At South Street Seaport Museum
Backstage: The Voyage of Naked Angels' Concert-Play 'SeaWife
Theater Mania:Exclusive First Listen-Bask in the Glory of Naked-Angels-Seawife
Broadway World:Video Naked Angels to Premiere SEAWIFE at South Street Seaport
February 15 2015
http://capeandislands.org/post/romance-ghosts-and-sea-shanties
October 12 2014
Here's a link to Seth's interview on the Flea theater's blog regarding his approach to writng for #Serials; the Flea's afterhours theatrical rumpus. http://thefleatheaternyc.tumblr.com/post/99655334680/sin-soul-saving-sea-wife-an-interview-with
July 17 2014
Here's a link to an interview with Seth Moore and his co-conspiritors, the Lobbyists, on NPR's Morning Addition. The interview took place during their worksop at the Cape Cod Theater Project in the studios of WCAI. The interviewer was Dan Tritle. http://capeandislands.org/post/romance-ghosts-and-sea-shanties
June 22 2014
The team is thrilled to be the first musical workshop of New York Stage and Film's Powerhouse Theater's 30th Anniversary season.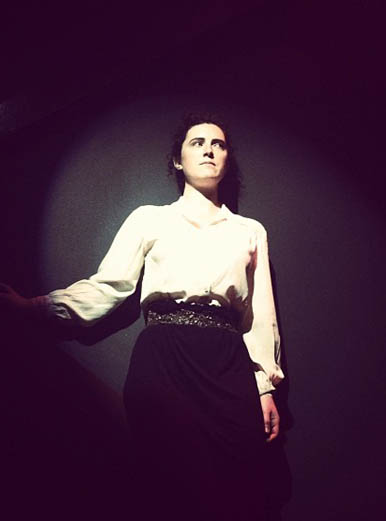 We go up in the Susan Stein Shiva Theater at Vassar College on Friday, June 27 & Saturday, June 28 at 8 pm and Sunday, June 29 at 2 pm and 7 pm. Get your tickets at the link, e-mail the Powerhouse Box Office at phtboxoffice@vassar.edu or call at (845) 437-5599.
June 18 2014
Seawife-The new play/concert (play by Seth Moore, music by The Lobbyists, directed by Liz Carlson, costumes by Loren Shaw) - has started its exciting summer voyage with a concert at ArsNova in NYC.
This will be followed by a 2 week long workshop at the 2014 New York Stage and Film Powerhouse Theater, which will conclude with four public shows on June 27, 28 & 29.
In July they will be at the Cape Cod Theatre Project for a week long workshop and three public readings on 17, 18 and 19.
In August they will participate in the Rhinebeck Writers Retreat for another week long workshop.
April 2 2014
The Seawife Creative team is proud to be selected as the featured artist for April at Theater is Easy. Check out the interview at: Theater is Easy
March 26 2014
Just released today, the new music video for Scary Night! Just one of the tracks off The Lobbyists' new EP, Songs from Seawife. available March 28th HERE.
"Scary Night"
Shot by Cole Smothers gravityfreeproductions.com
Concept by Cole Smothers and Seth Moore
Costumes/Makeup by Loren Shaw
Many thanks to Liz Carlson and Angela Dumlao
September 17 2013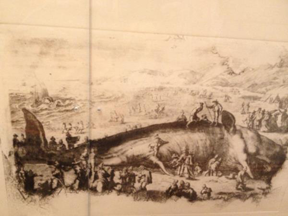 SEAWIFE tells the story of Percy, a young 19th Century first mate aboard the whaling vessel Requiem, sailing its last voyage of the Atlantic. When Percy and crewmates hunt and kill a mysterious Leviathan, its presence aboard drives the crew to a raving madness- and forces Percy to finally confront the horrific loss of his wife. Drawing from the great nautical literature of Melville, Coleridge and others, Moore's script is a blend of modern story telling and themes with 1830's tropes. Found object puppetry, ghosts, a Leviathan, and original music by actor-musicians/band The Lobbyists combine in a one-of-a-kind event that is part play, part concert, part immersive experience. SEAWIFE will have a workshop reading performance this Monday, September 23rd.
August 4 2013

I'm excited to be doing my first ever NYFringe show (what took so long?) Performing in I AM A MOON. Zhu Yi's lyrical play partially inspired by the life of legendary Japanese porn star Ai Iijima Everyone is a bright moon until you get closer and the craters appear. A closeted pop star, a secret fan, a body full of hickeys, a house without curtains… together weave a darkly humorous journey into the beauty of our ugly side. I AM A MOON explores the ways Eastern and Western cultures try to construct beauty and sexuality through shame: the shame of being over-weight, the shame of liberated sexuality, the shame of physical disability, the shame of physical scars, the shame of being a victim of sexual harassment, and the shame of aging. The Lynn Redgrave Theater (# Venue 14) Address: 45 Bleecker Street (at Lafayette Street, the home of Culture Project), New York, NY10012 Aug 9 (FRI) @ 5pm Aug 12 (MON) @ 4:30pm Aug 14 (WED) @ 5:45pm Aug 15 (THU) @ 9:30pm Aug 16 (FRI) @ 7pm Tickets: $15- $18. For tickets visit: http://www.fringenyc.org/basic_page.php?ltr=I#IAMAMO or click here
July 29 2013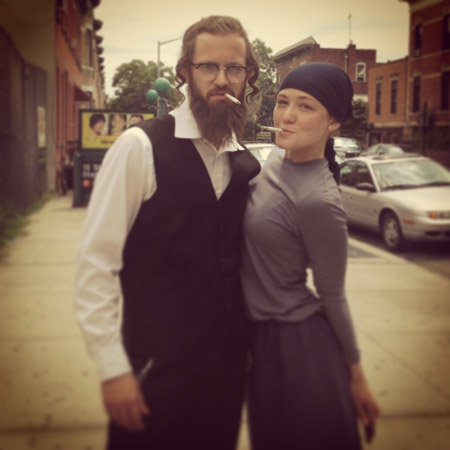 Shooting has wrapped on a short film entitled "TZNUIT" featuring Seth in the role of an Orthodox Jew. Co-starring is Louisa Krause (Who was also featured in the films: Martha Marcy May Marlene,and King Kelly). The film is being produced by Borderline films and is written/directed by David Formentin and produced by Alex Norton.
June 10 2013 ..........................................
Excited to announce, that my short radio thriller, WOLF INSIDE, will get a live broadcast this Friday June 14th out the Greene Space at WNYC. Directed by Jim Simpson and the endlessly talented Bat company, should prove to be a disturbing night at the radio-er.. computer... podcast? Well, however you listen to it, make sure to turn the lights off... Or if you'd like to come check it out in person you can grab your (FREE) tickets here.
Had a great time working with the incomparable Isaac Klein, James Stewart, Vanessa Walters and Matt Cowart on the workshop of their CRAZY musical, LEGEND OF THE WORD, over the past two weeks. Got to brush up on my music theory AND my Maori war dancing... wishing the team the best of luck with the show!
Excited to announce a theatrical collaboration with my dear friends, and fellow creatives, The LOBBYISTS! Set to land this Autumn. Details to come...
So much Congratulations to Ed Iskandar and Loren Shaw on their Drama Desk Nominations (Directing and costume design, respectively) for RESTORATION COMEDY. So proud to have been a part of this miraculous show, and to have you both in my life.
had a great time coming in as a pinch-hitter for my lovely friend, Annika Franklin's screenplay, NOT HERE (directed by my old friend, Mia Walker)
A big-ass congratulations to my girl, Liz Carlson, on becoming the new Artistic Director for Naked Angels!
Had a great experience participating in The Claque Theater Company's QUICK AND DIRTIES festival... workshopped Christina Gorman's terrific play, FAR FROM THE TREES, playing Garrett. Awesome times were had by all. Much thanks to Jason Bruffy, Christina, Quincy Beard, Steven Rishard, Natalie Kim, and Ramsey Faragallah for a fun process and, of course, Nick Leavens and Liz Carlson for giving me the opportunity!
Trippy times had with Rebecca Wright and Adriano Shaplin at the workshop for SARAH FLOOD IN SALEM, MASS. Simply amazing physically and mentally acrobatic acting... always a joy.
Loved working with my good friend and Director, Dina Vovsi, at the NYMadness festival. Was great to be back, this time as an actor. And much love to Rob Askins who wrote us one crazy bit of ten minutes...
Loved doing the reading of Michael Wallach's brilliant little firecracker of a play, WARHOL'S SON, at the Flea this week. Much luck with it!
February 4 2013 ..........................................
Seth is featured in Jason Bruce Williamson's Greater Angels directed by Ed Iskandar! February 15 to March 3rd.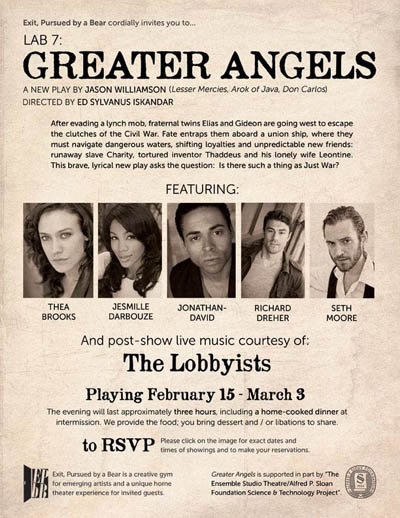 December 18 2012 ..........................................
Here's another great trailer by Crystal Arnette
December 12 2012 ..........................................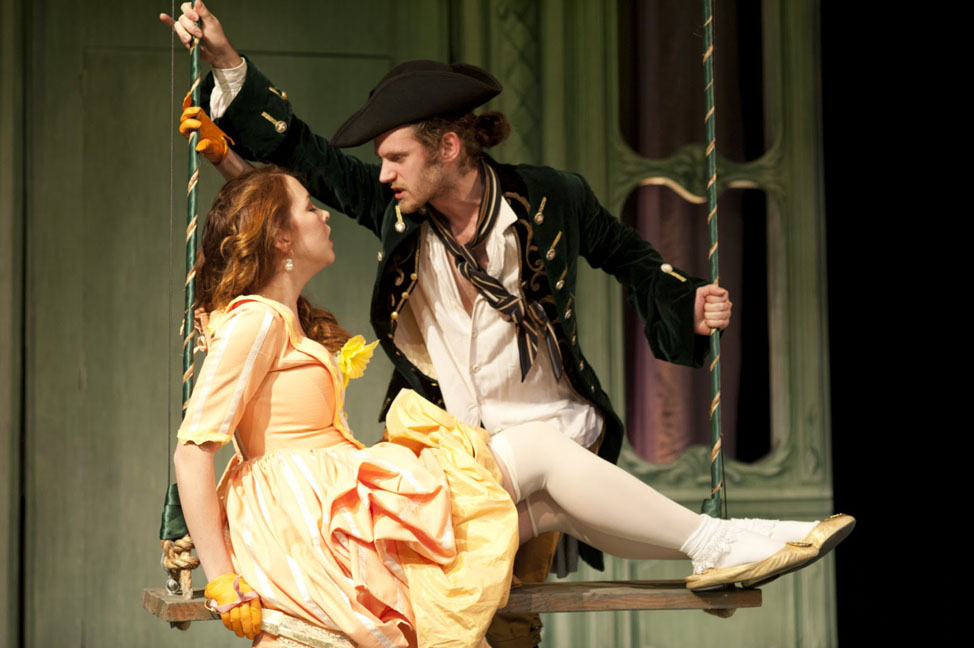 The reviews are in! All the more reason to come on down to the Flea.
Jinks Aplenty, More Low Than High, and Gleefully So :
The New York Times
Review:
theatermania.com
Theater Restored:
Theater in The Now
Review:
Let's Talk Off Broadway
Review:
Show Business
The Bats Smash the Fourth Wall (Again) :
The Connecticut Post-Joe's View
Review:
Curtain Up
Let's Have a Comedy (I Want to Have a Comedy): The Flea Theater's Restoration Comedy :
Huffington Post
Review:
Theater Light and Sound

December 10 2012 ..........................................
Opening Night for Restoration Comedy! Come to Tribeca and share a raucous over the top romp with some fine actors, musicians and dancers at the Flea.
October 23 2012 ..........................................
Seth is set to star in Ed Sylvanus Iskandar's follow up to last season's hit THESE SEVEN SICKNESSES...
The Flea theater's RESTORATION COMEDY is a bawdy, sexy romp through a world that is part 1700's London, part Madonna music video. Pulitzer Prize finalist Amy Freed's script is a brilliant modern revitalization of an old forgotten form, which will surround you with full on dance numbers, music by The Scissor Sisters, blacklight burlesque, variety acts and an endless punchbowl... The ultimate holiday party.
Seth Moore stars as Ned Worthy, a rake-in-reform, coming to grips with his deepening love for his dearest friend's wife as he tries to leave a life of debauchery, in a world that swears by it.
Previews begin November 23, at the Flea Theater in TriBeCa.
The first 20 minutes of GHOSTS IN THE TAPESTRY, Seth's epic radiotheater piece, will be released as a sneak peak in November. Stay tuned...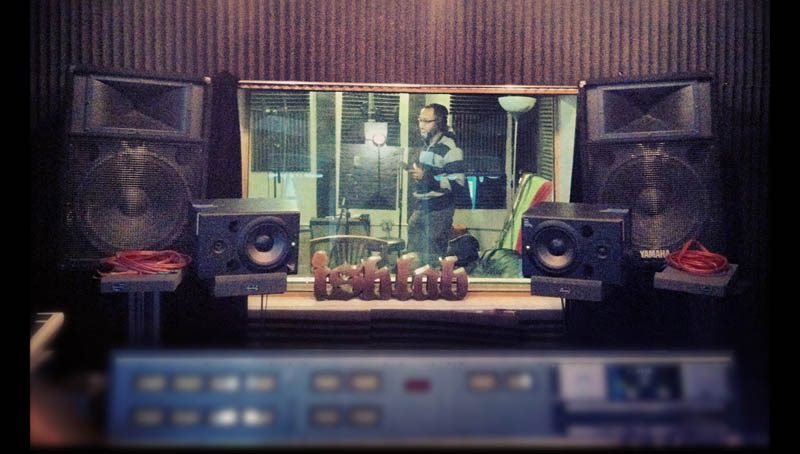 Trippy times were had at the Lark's development workshop of OUT OF JOINT, By A. Rey Pamatmat and directed by Victor Maog. Was most glad to take part.
August 28 2012 ..........................................
Had a raunchy good time work-shopping Ed Iskandar's latest bawdy fever dream… RESTORATION COMEDY, by Amy Freed… now opening this winter…
Had a ton of fun working with Arthur Yorinks and a terrific crew of radio writers at the last radio workshop at the Flea!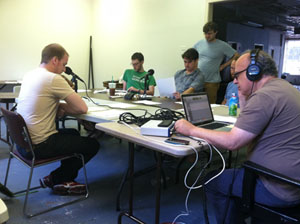 August 26 2012 ..........................................
THE MAN WITH AMERICA SKIN has completed it's run at the ATA theater and I couldn't be happier. A well-received show, by my wolverine dream team…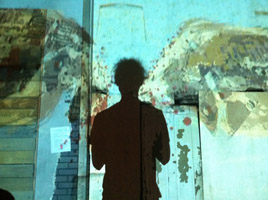 Much thanks to…
My glorious actors: Pete McElligott (MARS) And David Triacca (TOUCH)…
My Team: David S. Cohen (stage Management), Justin Lang(Set and Projection Design),Tiffany Abercrombie (make-up design), Loren Shaw (Costume Design), Arianna Gallo (Costume dept. asst.), Vadim Ledvin (lighting Design), Alison Mantilla (props), Matt Walsh (Sound Design), Matt Romein (projection operator)…
and of course my people at Blue Fire Productions: Stephanie Shechter, Nathan Lehmann, Leigh Adel-Arnold, and the incomparable Alex Bisker (director/Producer)!!!!
August 16 2012 ..........................................
Opening night!-Man With America Skin. See you at the American Theatre of Actors 314 West 54th St.
July 17 2012 ..........................................
July 4 2012 ..........................................
The sicknesses are over... on to the next dark adventure . Production has begun on Seth's new play "Man WIth America Skin"! Couldn't be more thrilled with the production team and the work that's been done so far. This is shaping up to be one trippy beautiful play.
However to really bring it to the level that we want we really need your help. Please check out our Kickstarter page where you can make a donation to our cause and watch our snazzy video about the production. Please feel free to like us on facebook (even if you don't) and post us to your facebook page. The play also has it's own facebook page which you can find here:http://www.facebook.com/TheManWithAmericaSkin
June 20 2012 ..........................................
These Seven Sicknesses Is Back and the reviews are in!:
Show Business
Theater is Easy
May 2 2012 ..........................................
"The Electric Lighthouse is an excellent start to the Trio of new plays(at the Flea Theater)." That's what Reviews Off Broadway has to say about The Electric Lighthouse.
Backstage writes: "As directed with propulsive force by Kristan Seemel and performed by members of the Bats, the Flea Theater's young resident acting company, (The Electric Lighthouse) provides a high-powered start for the Flea's New Play Festival..."
Two more reasons to come see the show!
April 19 2012 ..........................................
Check out this great promo for The Electric Lighthouse. (More brilliant work by Crystal Arnette.)

April 11 2012 ..........................................
My next show, THE ELECTRIC LIGHTHOUSE by Ed Hime starts previews on 4/20! So excited to put up this dark, punk piece about overcoming tragedy, growing up late and watching great films. But the fun doesn't stop there... The ELECTRIC LIGHTHOUSE is only a third of the festivities included in the Flea's New Plays festival, which also includes The WUNDELSTEIPEN by Nick Jones and A LETTER FROM OMDERMAN by Jeffrey M. Jones. Grab your tickets here! https://web.ovationtix.com/trs/pr/912784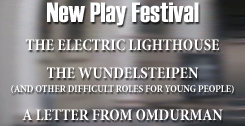 The rumors are true.... the Flea Theater's hit Greek marathon, THESE SEVEN SICKNESSES by Sean Graney WILL BE RETURNING this June! I'm already warming up the old crutch, growing a beard and getting my right foot nice and rotten for a second go at Philoctetes. More details to come!
Just wrapped a very fun week, workshopping THE NOTEWORTHY LIFE OF HOWARD BARNES, the newest musical from Dimond And Kooman (http://www.koomandimond.com/biography.html) at NEW YORK THEATER WORKSHOP... directed by Ed Iskandar. My first musical in eight years... glad to say the old pipes are still in working order...
I'm pleased (ecstatic) to announce that my play, THE MAN WITH AMERICA SKIN will have it's very first full production (Off-Broadway, no less) this summer, as part of the ARACA project, put on by the ARACA group (http://www.araca.com/). More Details to come!
February 14 2012 .................................
These Seven Sicknesses are now extended through March 4th and the reviews keep coming in! This one was posted just today and it is a wonderful description of what the Seven Sicknesses experience is all about. :Show Business Magazine
January 30 2012 ..................................
- THESE SEVEN SICKNESSES has been extended through February 26th!

-This weekend marked the opening of THESE SEVEN SICKNESSES at the Flea Theater. The play is an adaptation by punk playwright, Sean Graney of Sophocles existing 7 plays:"Oedipus Rex," "Oedipus at Colonus" and "Antigone" ; as well as "Ajax," "Women of Trachis," "Electra" and "Philoctetes. Seth is playing Philoctetes and loving it despite the fact that he losses his foot during the course of the action and has to drag Hercules around on his back.
As invisioned by Ed iskander the play is seen as a "Socially Immersive Experience" echoing the Greek bacchanalia...Guests get a full night out with a Dinner from Macao trading company (awesome Portugese fusion restaurant), dessert and drinks . Plus four hours of creative death sequences, sexy incest and a ton of rock and roll. And knowledge. And booze. Need I say more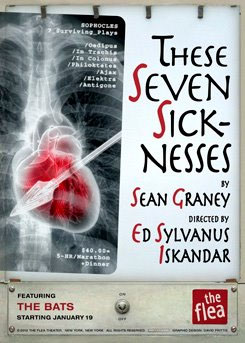 Here are some of the reviews so far:
Sophocles' Tragic Tales as a Blood-Soaked Tapestry:The New York Times
Review: theatermania.com
Sophocles as a Party: The Faster Times
Review: Let's Talk Off Broadway
Review: Curtain Up
These Seven Reasons to See These Seven Sicknesses: Huffington Post
Review: Exeunt Magazine
Review: Backstage
Review: NYTheater.com
- Seth is currently workshopping his latest project, an immersive soundscape/radioPlay, GHOSTS IN THE TAPESTRY at the Flea. 
- #Serials@the flea, now in it's third series, is still going strong and picking up steam every weekend at the Flea Theater. The show now has a weekly following of fans, great bands signing up to perform and a snazzy new sponsor (Sixpoint Brewery). Seth's show, The Connectors, which he co-wrote with the righteous Donaldo Prescod after Musa Bacon passed the torch, is to this day the juggernaut of the Show, holding the current record for the length of it's run. The team recently killed the show (and every single character on it) to explore other ideas. The response was tremendous, and many tearful messages were posted on the voting ballots…
#Serials@theflea plays every Thursday, Friday and Saturday at 11pm. FREE BEER with your ticket! Runs through August. For more info, go to:
and to read up on some of the madness you missed, check out L Magazine's coverage of the show .
Also check out WNET's Metro Focus article "Bats and Booze at the Flea". Could we be going mainstream?
- The Flea's production of Future Anxiety opened to great reviews and a successful run. Check out our review in the Nytimes: http://theater.nytimes.com/2011/05/04/theater/reviews/future-anxiety-by-laurel-haines-at-flea-theater-review.html - While working on these other two productions, Seth also starred as Adam in Plaid Couch Productions' newest work, Gardenplays by Phil Whitte (http://www.plaidcouchproductions.com/past-projects.html) - Currently, Seth is setting up yet another reading of The Man With America Skin, this time at the Flea. More news on that when the date is set…
Excited to announce that the Flea's episodic experiment, "#Serials" went better than expected: Four weeks straight of sold out performances and an extension kicking off in two weeks! Seth's group, "The Cereal Downstairs" came in first place two weeks in a row for their little ditty (an absurdist cop drama called "The Connectors", written by the ever-noble Musa Bacon) and placed third for the final performance. Check the Flea's site for more details on the continuation of this dope new show!
Seth will next be seen playing multiple roles and understudying in the Flea's upcoming production of "Future Anxiety" by Laurel Haines and directed by Jim Simpson. Check the
Flea
's site for details.
Seth starred in an exciting reading of Doug Wright's "Quills", directed by Mary Catherine Moore, re-teaming with Tom O'Leary, of "Rat in the Skull" and performing for a great crowd in the village. The play is in development and is shooting for a spring opening. 
Development continues on Seth's play, "The Man With America Skin", with a new reading/workshop cast and rehearsing for performances on the first weekend of March. Final dates to be announced soon...
Seth is currently working on a reading of Tom Bradshaw's newest play, Job, and understudying for the role of Andy in Trista Baldwin's disturbing new play American Sexy.
Seth is also working on a brand new project at the Flea, currently titled Natural Selection, an episodic series where five teams of actors/writers/directors/artists each devise their own show which will run weekly at the theater, unless the audience votes it to be taken off the bill. It'll be a late-night extravaganza (all performances happening waaay after your curfew) of raunchy good times, cheap beer, live music, and wild new theater ranging from campy and perverse to thought-provoking to outrageous, funny or even… horrifying.
2010 ......................................................
Seth Assistant directs The Flea theater's Parents Evening, directed by Jim Simpson (The Boys, O Jerusalem, Looking at Christmas) and starring James Waterston (Six Feet Under, Treme) and Julianne Nicholson (Law and Order SVU). While in rehearsals, Seth directs his own version of the show, featuring members of the Flea's resident acting company (Keola Simpson and Katherine Folk-Sullivan), which has its own performance at the Flea towards the end of the run.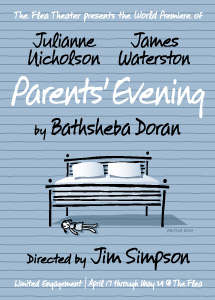 Jonesin' receives a reading at the Flea later that month.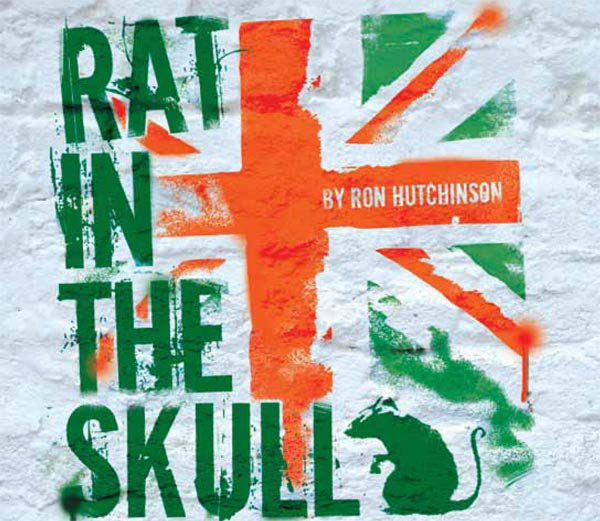 Seth is cast as the fledgling east-london policeman, P.C. Naylor, in a production of Ron Hutchinson's Rat in the Skull by Wallfly Theater Company. The Production is directed by Roderick Hill and Laurence Lowry, and also stars Tom C. O'Leary (Fair City) and Colin Stewart. The show has a great run at the Drilling Company's uptown theater, opening to rave reviews as well as being one of the featured plays of the First Irish Theater Festival and as a 'critic's pick' for Backstage.com and Nytheater.com.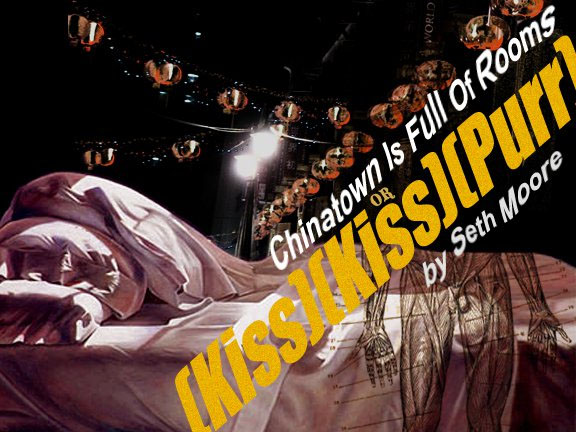 Simultaneously, Seth's new play, Chinatown is Full of Rooms or (Kiss)(Kiss)(Purr), opens at The Manhattan Repertory Theater as part of their 2010 One Act Play Festival. The play is directed by Alex Bisker (a fellow Michigan grad) and stars Sean Tant, Leigh Adel-Arnold and Jessica Hendricks.
Seth is accepted and becomes an official member of the BATS (the resident acting company at the Flea) where he is now proudly situated, working on projects with an amazing pool of talented and like-minded theater artists.
2009 ......................................................
Seth receives the Hopwood award for Drama as well as the McIntyre Prize for the second year in a row for his new play The Man With America Skin.
Jonesin' premieres at the Arthur Miller theater to an audience that includes the School of Music Faculty, the Dean, UofM Donors and Robert Miller (Arthur Miller's son). It runs for the next couple weeks to audiences who are ever enthusiastic about the audacity of the piece. The show is Directed by local legend and tragic-clown extraordinaire, Malcolm Tulip, and features stunning set and projection design by the one and only Justin Lang.Umich Events Page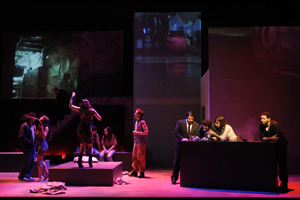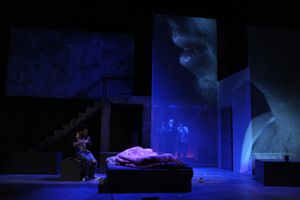 Jonesin is published by Charing Cross Press.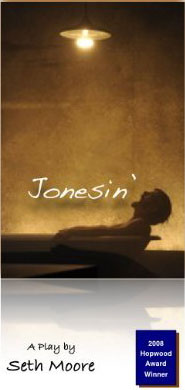 Seth receives his BFA in Theater Performance (Which seems like a strangely limiting title after his eclectic college career), bids his teary farewells to Ann Arbor and heads off to New York City.
2008 ......................................................
Seth receives the top prize of the Hopwood Award for Drama, as well as the Naomi Saferstein Literary award and the McIntyre Prize for Distinction in Undergraduate Playwriting for his play, Jonesin'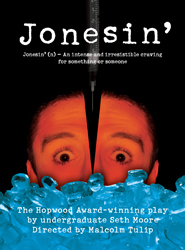 Seth gets to stretch is musical abilities when he is asked to take on the role of music Director for Gillian Eaton's late 50's themed production of As You Like It. With the help of two other terrific musicians (Pomme Koche and Tom Wolfson) they call themselves "The Horny Foresters" and proceed to score the entire five acts of the Bard's meditation on love, youth and revolution. Weaving together a tapestry of late fifties and early sixties pop, as well as writing original music to Shakespeare's classic lyrics (while finding creative ways to fit pentameter into 4/4) they're orchestration becomes one of the focal points of the show. (link to music)
UofM announces that The University will produce Jonesin' as a mainstage production in 2009. It will be the first time in history that the school has produced a play by a current undergraduate student. (include links to announcement)
Seth writes, directs and produces Catch, a punk poetry mood-song about youth violence in America. With his very talented cast of fellow Michigan Drama types, he rehearses in Ann Arbor then travels the show to the Cincinnati Fringe Festival for a successful run at the, now closed, Performance Collective Theater. The Cincinnati Observer calls Seth "A writer chock full of ideas and perspective".
Seth takes a turn at another fascinating character in Wole Soyinka's Madmen and Specialists (UofM) in which he plays the mad, cannibalistic mendicant, Goyi.
2007 ......................................................
Seth directs Jiminy in the Wild City, the third devised project of his group, Prophet in Your Pocket.
Seth is featured as Pinky in the University of Michigan's production of Stephen Adly-Guirgis's Our Lady of 121st Street. The Ann Arbor News calls him "The Emotional Heart of the show".